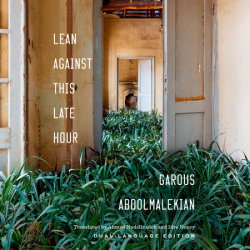 Lean Against This Late Hour
Imprint: Books on Tape
Genre: Poetry - Middle Eastern

Release Date: April 14, 2020
0 Hours and 46 Minutes
List Price: $22.80
ISBN: 9780593293898
Finalist for the PEN Award for Poetry in Translation 

A vivid, "mesmerizing" (New York Times Magazine) portrait of life in the shadow of violence and loss, for readers of both English and Persian

The first selection of poems by renowned Iranian poet Garous Abdolmalekian to appear in English, this collection is a captivating, disorienting descent into the trauma of loss and its aftermath. In spare lines, Abdolmalekian conjures surreal, cinematic images that pan wide as deftly as they narrow into intimate focus. Time is a thread come unspooled: pain arrives before the wound, and the dead wait for sunrise.

Abdolmalekian resists definitive separations between cause and effect, life and death, or heaven and hell, and challenges our sense of what is fixed and what is unsettled and permeable. Though the speakers in these poems are witnesses to the deforming effects of grief and memory, they remain alive to curiosity, to the pleasure of companionship, and to other ways of being and seeing. Lean Against This Late Hour illuminates the images we conjure in the face of abandonment and ruin, and finds them by turns frightening, bewildering, ethereal, and defiant. "This time," a disembodied voice commands, "send us a prophet who only listens."