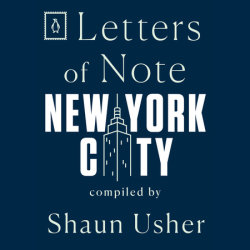 Letters of Note: New York City
Narrator:
Louise Brealey
,
Simon Callow
,
Crystal Clarke
,
Stephen Fry
,
Toby Jones
,
Ferdinand Kingsley
,
Greg Lockett
,
Chris Nayak
,
Shazia Nicholls
,
Juliet Stevenson
,
Mark Strong
&
Shaun Usher
Imprint: Books on Tape
Genre: Literary Collections - Letters

Release Date: November 02, 2021
2 Hours and 39 Minutes
List Price: $38
ISBN: 9780593457269
An exciting new volume of letters about the Capital of the World--from George Washington, Kahlil Gibran, Audrey Hepburn, Martin Scorsese, and more--from the author of the bestselling Letters of Note collections

Peter Schagen writes to the Dutch West India Company about the purchase of "Manhattes." Mayor Ambrose Kingsland urges the city council to create what became Central Park. E. B. White bemoans taxi cab design to Harold Ross, cofounder of The New Yorker. Bianca Jagger sets the record straight about that white horse in Studio 54. New York City goes by many names--Gotham, Empire City, the City That Never Sleeps--and once served as the capital of America. It came together as we know it in 1898 and has become one of the world's most powerful, most important megacities, shaping art, culture, finance, and media across the globe. This iconic collection of thirty letters smartly explores the history of life in the five boroughs. You'll need more than a New York minute to enjoy it all.