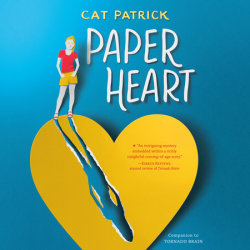 Paper Heart
Imprint: Listening Library
Grades: Grade 5 & Up
Ages: 10 and up
Release Date: May 11, 2021
6 Hours and 55 Minutes
List Price: $50
ISBN: 9780593397534
In this companion to Tornado Brain, a moving tale of loss and healing comes full circle.

Tess has always understood her role in her family. She is supposed to be the "okay" one. The one no one has to worry about. But all Tess does is worry, constantly picking at her fingers every time a new worry arises. Still grieving her best friend's death, she is consumed by the fear that everything was her fault and her sadness that Colette is never coming back. Worse still, it seems like everyone else has found a way to move on, even her twin sister Frankie. When her mom decides a change of location might do her good, Tess finds herself on an airplane bound for her aunt's house in small town Wyoming and a summer vacation attending art camp.

Tess thinks she might never be able to move on from losing Colette but her quirky but determined cousin Kennedy and new friend Izzy are determined to help. When Tess becomes convinced that Colette's ghost might be haunting her, Kennedy and Izzy find new ways for Tess to make peace with the past and finally let go of the grief that has been haunting her heart.