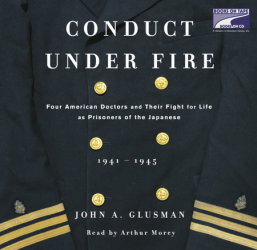 BOT Exclusive
Conduct Under Fire
Four American Doctors and Their Fight for Life as Prisoners of the Japanese
Imprint: Books on Tape
Genre: History - Wars & Conflicts - World War II - General

Release Date: December 11, 2007
24 Hours and 7 Minutes
List Price: $95
ISBN: 9781415950562
The fierce, bloody battles of Bataan and Corregidor in the Philippines are legendary in the annals of World War II. Those who survived faced the horrors of life as prisoners of the Japanese.

In Conduct Under Fire, John A. Glusman chronicles these events through the eyes of his father and three fellow Navy doctors captured on Corregidor in May 1942. Here are the dramatic stories of the fall of Bataan, the siege of "the Rock," the daily struggles to tend the sick, the wounded, and the dying, during some of the heaviest bombardments of World War II.

Once captive, the doctors and corpsmen waged a desperate war against disease and starvation for nearly three and a half years, amid an enemy who viewed surrender as a disgrace. To survive, the four POWs tried to function as a family. But the ties that bind couldn't protect them from a ruthless counteroffensive waged by American submarines or from the B-29 raids that burned Japan's major cities to the ground. Based on extensive interviews with American, British, Australian, and Japanese veterans, as well as dairies, letters, and war crimes testimony, this is a harrowing account of a brutal clash of cultures, of a race war that escalated into total war.