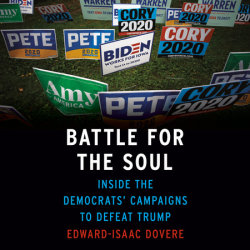 Reckoning
Inside the Battle for the Soul of the Democrats in the Trump Years
Imprint: Books on Tape
Genre: Political Science - Political Process - Political Parties

Release Date: May 18, 2021
9 Hours
List Price: $76
ISBN: 9780593394793
An award-winning political journalist for The Atlantic tells the story of an embattled Democratic party seeking a direction for its future during the Trump years, and how it successfully regained the White House

In Reckoning Edward-Isaac Dovere, staff writer for The Atlantic, will follow the Democratic Party from the wilderness after the inauguration of Donald Trump on January 20, 2017, to the swearing-in of Joe Biden on January 20, 2021. In the four years that passed after the Party's leaders, Barack Obama and Hillary Clinton, fell away, "the damaging cycle of rot and convulsion that Democrats seem unable to break out of" continued to plague the party in the face of the rise of Trumpism, even after a historic midterm win. Never before had it had presidential candidates as disparate as Sanders, Biden, Buttigieg, Warren, and Bloomberg. Never before had the standard campaign playbook been thrown quite so far out the window, especially after the appearance of COVID in the winter of 2020.

Behind Dovere's fly-on-the-wall account of this period is a critical look at Democrats' search for a message and an identity, the energy gathering for more progressive policies, shifting geographic and demographic voting trends, and the recalibration of what the party stands for. The party has struggled over how to define itself in opposition to Trump, but also whether the answer is a return to the moderate politics of Bill Clinton, an embrace of the multiethnic liberalism of Obama, or a dramatic pivot to Bernie Sanders's European-style socialism, and the election of Biden leaves many of those issues to be solved.

Dovere has spoken with most of the key Democratic players, and will be drawing on conversations with, among others, Kamala Harris, Elizabeth Warren, Pete Buttigieg, Tim Kaine, Cory Booker, and Tom Perez, as well as key players throughout all the Democratic presidential campaigns and beyond. The 2020 presidential election was one of the defining events in America's history and its future, and with its insider's command of the politics and contemporaneous access to the main players, Reckoning will be a fresh, timely, and timeless story like no other.