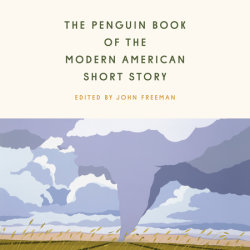 The Penguin Book of the Modern American Short Story
Narrator:
Erin Bennett
,
Scott Brick
,
Cassandra Campbell
,
Frankie Corzo
,
Ramón de Ocampo
,
John Freeman
,
Mark Feuerstein
,
Kim Mai Guest
,
Deepti Gupta
,
Dominic Hoffman
,
Lisa Renee Pitts
&
George Saunders
Imprint: Books on Tape
Genre: Literary Collections - American - General

Release Date: May 04, 2021
17 Hours and 11 Minutes
List Price: $95
ISBN: 9780593458747
A selection of the best and most representative contemporary American short fiction from 1970 to 2020, including such authors as Ursula K. LeGuin, Toni Cade Bambara, Jhumpa Lahiri, Sandra Cisneros, and Ted Chiang, hand-selected by celebrated editor and anthologist John Freeman.

IN THE PAST fifty years, the American short story has changed dramatically. New voices, forms, and mixtures of genres have brought this unique US genre a thrilling burst of energy. This rich anthology celebrates this avalanche of talent. Beginning in 1970, it culls together a half century of powerful American short stories from all genres, including--for the first time in a literary anthology--science fiction, horror, and fantasy, placing writers such as Usula Le Guin, Ken Liu and Stephen King next to some of the often-taught geniuses of the form--Grace Paley, Toni Cade Bambara, Sandra Cisneros, and Denis Johnson. Culling widely, Freeman, the former editor of Granta and now of his own literary annual, brings forward some astonishing work to be regarded in a new light. Often overlooked tales by Charles Johnson and Toni Morrison will recast the shape and texture of today's enlarging atmosphere of literary dialogue. Stories by Lauren Groff and Ted Chiang raise the spectre of engagement in ecocidal times. Short tales by Tobias Wolff, George Saunders, and Lydia Davis rub shoulders with near novellas by Susan Sontag and Andrew Holleran. This audiobook will be a treasure trove for listeners and teachers alike.