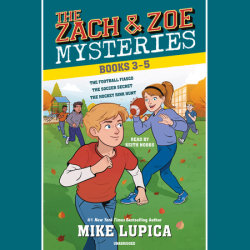 The Zach and Zoe Mysteries: Books 3-5
The Football Fiasco; The Soccer Secret; and 1 more
Imprint: Listening Library
Grades: Grades 1-4
Ages: 6-9 years
Release Date: May 21, 2019
2 Hours and 50 Minutes
List Price: $34
ISBN: 9781984885104
Books 3-5 of the Zach and Zoe Mysteries--a sports-themed chapter book mystery series by New York Times bestselling author Mike Lupica. Perfect for fans of Cam Jansen!

There's nothing eight-year-old twins Zach and Zoe Walker love more than playing sports and solving mysteries. And when those two worlds collide . . . well, it doesn't get any better than that.

The Football Fiasco: In this third mystery, Zach and Zoe discover their football has been completely deflated, leaving them without a ball to play with at recess. But who's behind it?

The Soccer Secret: Soccer season is underway, and though Zach and Zoe play on different travel teams, they're on the same team when it comes to solving mysteries. So when a package arrives in the mail addressed to Zach, the twins are surprised to find a soccer jersey identical to the one Zach wears for his team. But Zach's jersey is in his closet--so who does this jersey belong to and why did they send it? It's a soccer secret--and Zach and Zoe are on the case!

The Hockey Rink Hunt: In the fifth installment of the series, Zach and Zoe solve a hockey-themed mystery.

Once again, bestselling author Mike Lupica charms his youngest readers yet with a sports-loving detective duo who can swing for the fences and catch the culprit in one fell swoop. With a recipe equal parts sports and mystery, the Zach and Zoe Mysteries break fresh ground for an author who has been called the greatest sportswriter for kids.