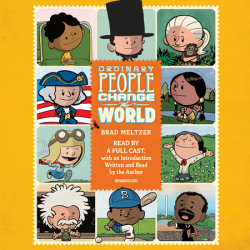 Ordinary People Change the World
I am Amelia Earhart; I am Abraham Lincoln; I am Rosa Parks; and 14 Other Heroes
Imprint: Listening Library
Grades: Grades K-3
Ages: 5-8 years
Release Date: February 05, 2019
5 Hours and 11 Minutes
List Price: $45
ISBN: 9781984883902
Seventeen titles from the New York Times bestselling series brought to life by a full cast!

What makes a hero? Brad Meltzer and illustrator Christopher Eliopoulos answer that question, one great role model at a time. This audiobook collection includes:

I am Billie Jean King
I am Neil Armstrong
I am Sonia Sotomayor
I am Abraham Lincoln
I am Amelia Earhart
I am Rosa Parks
I am Albert Einstein
I am Jackie Robinson
I am Lucille Ball
I am Helen Keller
I am Martin Luther King, Jr.
I am George Washington
I am Jane Goodall
I am Jim Henson
I am Gandhi
I am Sacagawea
I am Harriet Tubman

"This is not just a series of books," says bestselling author Brad Meltzer. "This is my dream for my daughter. My dream for my sons. These aren't just the stories of famous people. They're what we're all capable of on our very best days. This is our history and, I hope, our greatest legacy."