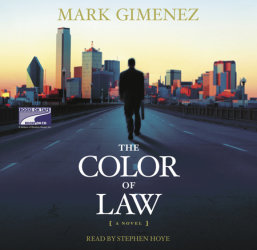 BOT Exclusive
The Color of Law
A Novel
Imprint: Books on Tape
Genre: Fiction - Thrillers - Political

Release Date: February 05, 2008
12 Hours and 22 Minutes
List Price: $95
ISBN: 9781415952542
A poor-boy college football hero turned successful partner at a prominent Dallas firm—who long ago checked his conscience at the door—catches a case that forces him to choose between his enviable lifestyle and doing the right thing in this masterful debut legal thriller.

Clark McCall, ne'er-do-well son of Texas millionaire senator and presidential hopeful Mack McCall, puts a major crimp in his father's election plans when he winds up murdered—apparently by Shawanda Jones, a heroin-addicted hooker—after a tawdry night of booze, drugs, and rough sex.

Scott Fenney, who's worked his way to being a partner at an elite Dallas law firm, is assigned to provide Shawanda's pro bono defense after the federal judge on the case hears him deliver an inspiring, altruistic—and completely insincere—speech to the local bar association. Scott plans to farm the case out to an old law school buddy, do-good-attorney Bobby Herrin. But his plans go awry when Shawanda puts her foot down in court and refuses to be passed off to the lawyer she considers the lesser attorney.

As the case unfolds, pressure is exerted on Scott to deter him from being too aggressive in his defense of Shawanda. That pressure becomes palpable as Scott is slowly stripped of the things he's come to care for most. Will he do the right thing—at a terrible cost—or the easy thing and keep his hard-earned fabulous life?

With echoes of early John Grisham, THE COLOR OF LAW is a provocative page-turner that marks the stunning debut of a major new talent.