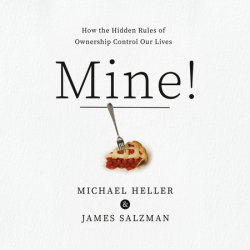 Mine!
How the Hidden Rules of Ownership Control Our Lives
Imprint: Books on Tape
Genre: Business & Economics - Organizational Behavior

Release Date: March 02, 2021
11 Hours and 14 Minutes
List Price: $95
ISBN: 9780593348987
"Mine" is one of the first words babies learn, and by the time we grow up, the idea of ownership seems natural, whether we are buying a cup of coffee or a house. But who controls the space behind your airplane seat: you, reclining, or the squished laptop user behind you? Why is plagiarism wrong, but it's okay to knock off a recipe or a dress design? And after a snowstorm, why does a chair in the street hold your parking space in Chicago, while in New York you lose both the space and the chair?

In Mine!, Michael Heller and James Salzman, two of the world's leading authorities on ownership, explain these puzzles and many more. Remarkably, they reveal, there are just six simple rules that everyone uses to claim everything. Owners choose the rule that steers us to do what they want. But we can pick differently. This is true not just for airplane seats, but also for battles over digital privacy, climate change, and wealth inequality. Mine! draws on mind-bending, often infuriating, and always fascinating accounts from business, history, courtrooms, and everyday life to reveal how the rules of ownership control our lives and shape our world.