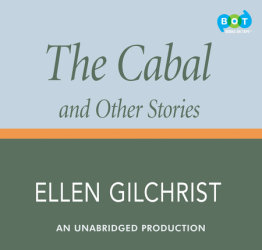 The Cabal and Other Stories
Imprint: Books on Tape
Genre: Fiction - Short Stories (single author)

Release Date: July 13, 2010
7 Hours and 40 Minutes
List Price: $76
ISBN: 9780307877581
"This is the story of a group of people who had a bizarre and unexpected thing happen to them. Their psychiatrist went crazy and started injecting himself with drugs. The most useful and dependable man in their lives became a maniac in the true sense of the word."

So begins the The Cabal, the hilarious novella that forms the centerpiece of Ellen Gilchrist's sparkling new collection of stories. Dr. Jim Jaspers's patients include all the most prominent citizens of Jackson, Mississippi--wealthy businessmen, wealthy socialites, even the governor's daughter. Unfortunately for them, their beloved psychiatrist suddenly goes mad himself, revealing their deepest secrets and embarrassing misdeeds to anyone who will listen. The whole town goes crazy: some want to lock him up or, failing that, arrange a convenient accident. Others try to protect him. The rest are busily revising their personal histories. The result is a hilarious, bitingly ironic tale, revealing that our deepest secrets invariably are those best known by others.

The five stories that follow are classic Gilchrist, including another witty and wise account of Miss Crystal by Traceleen. In one story, a happily married nurse finds herself pursued by an old high-school boyfriend. In another, a grandmother makes a cross-country pilgrimage from Kansas City to Mississippi to see her family. From a literary writer struggling in Hollywood to the mysterious appearance of thirty-six gold coins in a small Southern town, these stories will delight both old and new Gilchrist fans. With all the warmth, wit and humor her readers have come to expect from her, The Cabal and Other Stories.