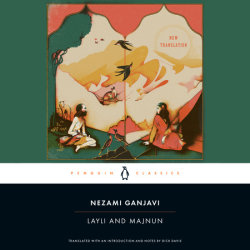 Layli and Majnun
Imprint: Books on Tape
Genre: Poetry - Middle Eastern

Release Date: February 09, 2021
7 Hours and 38 Minutes
List Price: $57
ISBN: 9780593393499
The Persian epic that inspired Eric Clapton's unforgettable love song "Layla" and that Lord Byron called "the Romeo and Juliet of the East," in a masterly new translation


The iconic love story of the Middle East, by a twelfth-century Persian poet who has been compared to Shakespeare for his subtlety, inventiveness, and dramatic force, Layli and Majnun tells of star-crossed lovers whose union is tragically thwarted by their families and whose passion continues to ripple out across the centuries. Theirs is a love that lasts a lifetime, and in Nezami's immortal telling, erotic longing blends with spiritual self-denial in an allegory of Sufi aspiration, as the amenities of civilization give way to the elemental wilderness, desire is sublimated into a mystical renunciation of the physical world, and the soul confronts its essence. This is a tour de force of Persian literature, in a translation that captures the extraordinary power and virtuosity of the original.

This audiobook includes a PDF that contains notes from the book.