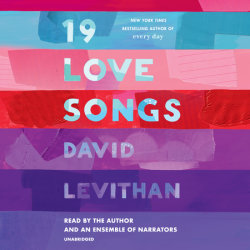 19 Love Songs
Narrator:
David Levithan
,
Vikas Adam
,
Ron Butler
,
Elle Cohen
,
Lisa Cordileone
,
Michael Crouch
,
Nick Eliopulos
,
Michael Goldstrom
,
Graham Halstead
,
Daniel Henning
,
Aaron Landon
,
Rebecca Lowman
&
Alex McKenna
Imprint: Listening Library
Grades: Grade 9 & Up
Ages: 14 and up
Release Date: January 07, 2020
8 Hours and 42 Minutes
List Price: $56
ISBN: 9780593104927
The New York Times bestselling author of Every Day, Someday, and Two Boys Kissing is back with a short story collection about love!

A resentful member of a high school Quiz Bowl team with an unrequited crush.

A Valentine's Day in the life of Every Day's protagonist "A."

A return to the characters of Two Boys Kissing.

19 Love Songs, from New York Times bestselling author David Levithan, delivers all of these stories and more. Born from Levithan's tradition of writing a story for his friends each Valentine's Day, this collection brings all of them to his readers for the first time. With fiction, nonfiction, and a story in verse, there's something for every reader here.

Witty, romantic, and honest, teens (and adults) will come to this collection not only on Valentine's Day, but all year round.