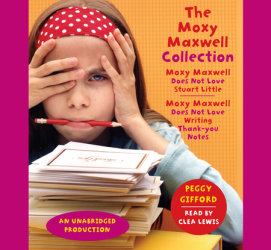 The Moxy Maxwell Collection
Moxy Maxwell Does Not Love Stuart Little, Moxy Maxwell Does Not Love Writing Thank You Notes
Imprint: Listening Library
Grades: Grades 2-5
Ages: 7-10 years
Release Date: August 26, 2008
2 Hours and 43 Minutes
List Price: $20.40
ISBN: 9780739363485
Moxy Maxwell Does Not Love Writing Thank-you Notes
It isn't as though Moxy isn't grateful for all her Christmas presents. She's just not so thrilled that she has to write twelve thank-you notes. Not to mention that she promised her mother they'd all be done by today. And if they're not–well, there will be "consequences." Namely, Moxy won't get to leave tomorrow for the vacation of a lifetime. (A trip to California to attend a Star-Studded Hollywood Bash with the father she hasn't seen in three years.) Moxy's wild schemes to get her thank-you notes done in time are clever, poignant, and always hilarious.

Moxy Maxwell Does Not Love Stuart Little
It wasn't as if Moxy Maxwell hadn't tried to do her summer reading. If Stuart Little wasn't in her backpack, it was in her lap . . . or holding up the coffee table . . . or getting splashed when Moxy went swimming. But now it's the end of August–the day before fourth grade. And if Moxy doesn't read all of Stuart Little immediately, there are going to be "consequences." Of course our heroine does manage to finish her book, falling so in love with it that she finds herself reading under the covers with a flashlight, late into the night.