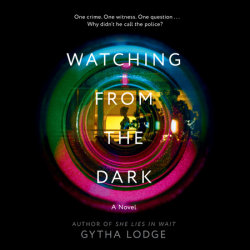 Watching from the Dark
A Novel
Imprint: Books on Tape
Genre: Fiction - Mystery & Detective - Traditional

Release Date: February 25, 2020
14 Hours
List Price: $95
ISBN: 9780593165416
When a vibrant young woman is murdered over video chat, a small-town detective wades into a circle of friends and lovers with dangerous secrets--from the acclaimed author of the "enjoyably chilling"* She Lies in Wait.

*The New York Times Book Review

Aidan Poole logs onto his laptop late at night to Skype his girlfriend, Zoe. To his horror, he realizes that there is someone else in her flat, and Aidan can only listen to the sounds of a violent struggle taking place in the bathroom--and then the sound of silence. Aidan is desperate to find out if Zoe is okay. But then why is he so hesitant to call the police?

When his messages finally reach them, Detective Jonah Sheens and his team take the case--and discover the body. They soon find that no one has a bad word to say about Zoe, a big-hearted young woman at the center of a curious web of waifs and strays, each relying on her for support, each hiding dark secrets and buried resentments. Has one of her so-called "friends" been driven to murder? Or does Aidan have the biggest secret of them all?