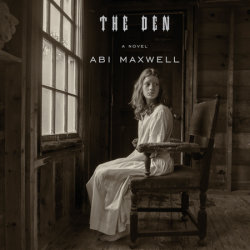 The Den
A novel
Imprint: Books on Tape
Genre: Fiction - Small Town & Rural

Release Date: May 14, 2019
9 Hours and 58 Minutes
List Price: $76
ISBN: 9781984840004
"A lush and luminous gem of a novel: The Den is a book with depth and mystery and soul." —Chris Bohjalian, author of The Red Lotus

Sisters Henrietta and Jane are fifteen and twelve, growing up in a farmhouse on the outskirts of a small New England town. When Henrietta becomes obsessed with a local boy, Jane takes to trailing the young couple, spying on their trysts. Until one night, Henrietta vanishes into the woods.

A century and a half earlier, sisters Elspeth and Claire are separated by an ocean: Elspeth's pregnancy at seventeen meant she was quickly married and sent to America to avoid certain shame. But when she begins ingratiating herself with a wealthy mill owner, a series of wrenching and violent events unfold, culminating in her disappearance.

Each in their own times, Jane and Claire must search for their missing sisters beneath the watchful eyes of their shared small town. With echoes of The Scarlet Letter, The Den is a transporting, layered tale of two women, living generations apart yet connected by place and longing, and condemned for the very same desires.