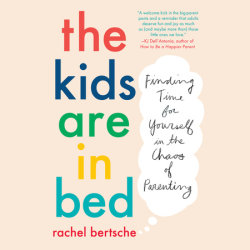 The Kids Are in Bed
Finding Time for Yourself in the Chaos of Parenting
Imprint: Books on Tape
Genre: Self-Help - Personal Growth - Happiness

Release Date: January 07, 2020
8 Hours and 38 Minutes
List Price: $76
ISBN: 9780593149713
"All new moms should shove a copy of The Kids Are in Bed in the diaper bag between the asswipes and Aquaphor! A perfect guide on how-to not morph solely into someone's mom and retain your badassery in a world of Disneyfication and baby sharks."
—Jill Kargman, author of Sprinkle Glitter on My Grave and creator of Odd Mom Out 

Picture it—it's 8:30 p.m. You close the door to your child's room just as you hear your partner closing the dishwasher, and now it's time for an hour or two of glorious freedom. What do you do? Read the book you've been waiting to crack open all day? Chat on the phone with a friend, glass of wine in hand, or go out with pals and share a whole bottle? Or, like many modern parents, do you get caught up in chores, busywork, and social media black holes?

In an original survey conducted for this book, 71 percent of parents said their free time didn't feel free at all, because they were still thinking about all the things they should be doing for their kids, their jobs, and their households. Rachel Bertsche found herself in exactly that bind. After dozens of interviews with scientists and parenting experts, input from moms and dads across the country, and her own experiments with her personal time, Rachel figured out how to transform her patterns and reconnect to her pre-kids life. In The Kids Are in Bed, other parents can learn to do the same, and learn to truly enjoy the time after lights-out.