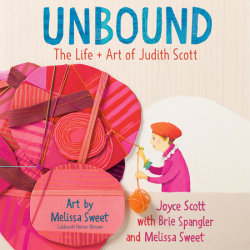 Unbound: The Life and Art of Judith Scott
Imprint: Listening Library
Grades: Preschool - 3
Ages: 4-8 years
Release Date: June 08, 2021
0 Hours and 23 Minutes
List Price: $22
ISBN: 9780593399224
A moving and powerful introduction to the life and art of renowned artist, Judith Scott, as told by her twin sister, Joyce Scott.

Judith Scott was born with Down syndrome. She was deaf, and never learned to speak. She was also a talented artist. Judith was institutionalized until her sister Joyce reunited with her and enrolled her in an art class. Judith went on to become an artist of renown with her work displayed in museums and galleries around the world.

Poignantly told by Joyce Scott with Brie Spangler, Unbound is inspiring and warm, showing us that we can soar beyond our perceived limitations and accomplish something extraordinary.