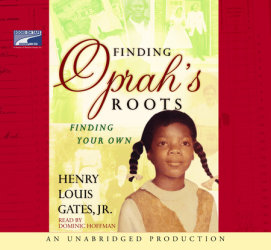 BOT Exclusive
Finding Oprah's Roots
Finding Your Own
Imprint: Books on Tape
Genre: Social Science - Ethnic Studies - American - African American & Black Studies

Release Date: March 06, 2007
5 Hours and 24 Minutes
List Price: $47.50
ISBN: 9781415939161
"Before I have a big meeting or decision to make," says Oprah Winfrey, "I go and I sit with the ancestors. Literally, I go and sit in my closet and I say their names. I just say their names so that when I walk into the space, I don't walk alone."

This audiobook will help millions of African Americans never again to walk alone.
What's more, it will show people of all races what the story of Oprah's ancestors teaches–the legacy one generation bequeaths another, how who we are is startlingly influenced by the paths our ancestors have trod, and the extraordinary impact that even the most humble among us can have on future generations through the simple process of building a life for our loved ones.
In FINDING OPRAH'S ROOTS, prominent African American scholar Henry Louis Gates, Jr., shines a brilliant searchlight into the dark shadows that have enveloped African American ancestry. By assembling an elite team of historians and geneticists in coordination with PBS and using Oprah and her forebears as his chief example, Gates unveils a process akin to resurrection. FINDING OPRAH'S ROOTS will not only endow listeners with a new appreciation for the key contributions made by history's unsung but also equip them with the tools to connect to pivotal figures in their own past.
For Oprah, the path back to the past was emotion-filled and profoundly illuminating, connecting the narrative of her family to the larger American narrative and "anchoring" her in a way not previously possible. For the listener, FINDING OPRAH'S ROOTS offers the possibility of an equally rewarding experience.