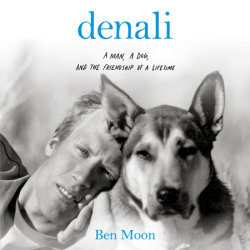 Denali
A Man, A Dog, and the Friendship of a Lifetime
Imprint: Books on Tape
Genre: Biography & Autobiography - Personal Memoirs

Release Date: January 14, 2020
7 Hours and 8 Minutes
List Price: $66.50
ISBN: 9780593151709
"....a very sweet dog story" -- Outside

The story of a dog, his human, and the friendship that saved both of their lives.

When Ben Moon moved from the Midwest to Oregon, he hadn't planned on getting a dog. But when he first met the soulful gaze of a rescue pup in a shelter, Ben instantly felt a connection, and his friendship with Denali was born. The two of them set out on the road together, on an adventure that would take them across the American west and through some of the best years of their lives. But when Ben was diagnosed with colorectal cancer at age 29, he faced a difficult battle with the disease, and Denali never once left his side until they were back out surfing and climbing crags. It was only a short time later that Denali was struck by the same disease, and Ben had the chance to return the favor. Denali is the story of this powerful friendship that shaped Ben and Denali's lives, showing the strength and love that we give and receive when we have our friends by our side.