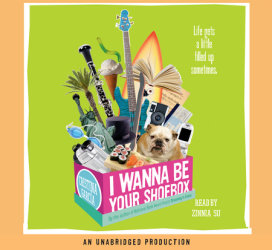 I Wanna Be Your Shoebox
Imprint: Listening Library
Grades: Grades 3-7
Ages: 8-12 years
Release Date: August 19, 2008
4 Hours and 37 Minutes
List Price: $32.30
ISBN: 9780739366844
Because Yumi RuÍz-Hirsch has grandparents from Japan, Cuba, and Brooklyn, her mother calls her a poster child for the twenty-first century. Yumi would laugh if only her life wasn't getting as complicated as her heritage. All of a sudden she's starting eighth grade with a girl who collects tinfoil and a boy who dresses like a squid. Her mom's found a new boyfriend, and her punk-rock father still can't sell a song. She's losing her house; she's losing her school orchestra. And worst of all she's losing her grandfather Saul.

Yumi wishes everything could stay the same. But as she listens to Saul tell his story, she learns that nobody ever asks you if you're ready for life to happen. It just happens. The choice is either to sit and watch or to join the dance.

National Book Award finalist Cristina García's first middle-grade novel celebrates the chaotic, crazy, and completely amazing patchwork that makes up our lives.