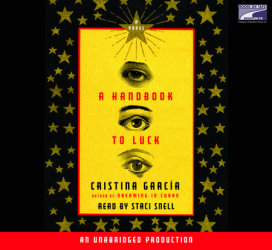 BOT Exclusive
A Handbook to Luck
Imprint: Books on Tape
Genre: Fiction - Sagas

Release Date: April 10, 2007
7 Hours and 41 Minutes
List Price: $85.50
ISBN: 9781415939673
From the acclaimed author of Monkey Hunting ("A miracle of poetic compression . . . An epic of anecdotes, a vista of brief and beautiful glimpses"–Los Angeles Times Book Review), a lyrical, haunting, deeply moving new novel.

Late 1960s. We meet three children: Enrique Florit, from Cuba, living in southern California with his flamboyant magician father . . . Marta Claros, getting by in the slums of San Salvador, forced to leave school to help support her family, her beloved older brother having already left home . . . Leila Rezvani, a well-to-do surgeon's daughter in Tehran, her mother concerned only with appearances, her father an often foolishly vocal opponent of the Shah.

As we follow them across the next twenty years we see chance draw Leila and Marta into Enrique's life–Leila and Enrique loving and losing each other, Marta the means to renewed hope for Enrique–and, throughout, "good luck or bad tilting life one way or another" for all of them.

With its cast of vividly drawn characters, its graceful movement through time, and its subtle revelation of the essential hopes and doubts of ordinary people whose lives are made extraordinary by circumstance, A HANDBOOK TO LUCK is Cristina García's most beautiful, elegiac, and deeply emotional novel yet.