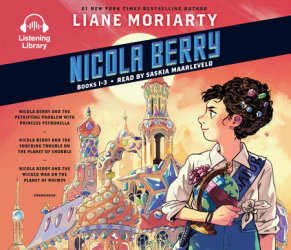 Nicola Berry, Books 1-3
Imprint: Listening Library
Grades: Grades 3-7
Ages: 8-12 years
Release Date: May 15, 2018
17 Hours and 26 Minutes
List Price: $75
ISBN: 9780525632160
A three-book outer space adventure series for young readers from the #1 New York Times bestselling author of Big Little Lies!

Nicola Berry and the Petrifying Problem with Princess Petronella: Nicola Berry's life is turned upside down the day a man from another planet comes to Earth on a strange mission. He's looking for somebody to travel back to his home planet and convince their stuck-up princess not to turn Earth into her planet's giant garbage dump. When Nicola is chosen as the Earthling Ambassador, she's not sure that she's up to the task. Can Nicola and her friends save the planet in time? Or will the nasty Princess Petronella cover Earth in a galactic ton of garbage?

Nicola Berry and the Shocking Trouble on the Planet of Shobble: Nicola Berry and her friends have barely caught their breath from their last trip to space when they are called on another intergalactic adventure! This time, they're on their way to Shobble, a beautiful snowy rainbow planet where nothing bad ever happens--or so they say. It turns out there is trouble brewing beneath this glittery exterior, and Nicola is put in a tough position. Should she risk defying the planet's dangerous commander-in-chief to help the people of Shobble? Leading the Space Brigade is no easy task!

Nicola Berry and the Wicked War on the Planet of Whimsy:Nicola and her friends' whirlwind tour of the galaxy isn't about to stop! The Space Brigade's third adventure takes them to a strange pair of planets that couldn't be more different. On one side is a planet covered in volcanos. On the other side, a beautiful place full of daydreamy poets. Nicola and the Space Brigade find themselves caught in the middle of a war between the two, and must find a way to make peace before it's too late!