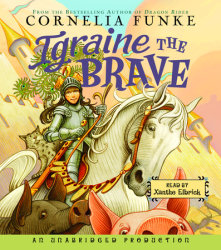 Igraine the Brave
Imprint: Listening Library
Grades: Grades 3-7
Ages: 8-12 years
Release Date: September 25, 2007
4 Hours and 25 Minutes
List Price: $34
ISBN: 9780739361023
Igraine, who turns twelve tomorrow, dreams of becoming a famous knight. But today, like most days, life at the family castle remains . . . rather boring.

Until the nefarious nephew of the baroness-next-door shows up. Greedy Osmund's got a dastardly plan to capture Pimpernel Castle and steal the singing magic books that belong to Igraine's mom and dad. Complicating matters, on the eve of the siege her parents misspeak a spell and turn themselves into pigs! (How inconvenient.)

Igraine's birthday wish has come true, and the challenge is bigger than she ever bargained for: Will she face her fears and find the courage to save the day–and the books?