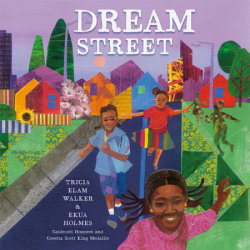 Dream Street
Imprint: Listening Library
Grades: Preschool - 3
Ages: 4-8 years
Release Date: November 16, 2021
0 Hours and 13 Minutes
List Price: $22
ISBN: 9780593554876
Caldecott Honor, three time Coretta Scott King Award winner, and New York Times bestselling illustrator and her author cousin pay gorgeous homage to the street they grew up on and the loving community that made their childhood special.

Welcome to Dream Street--the best street in the world! It's where love between generations rules, everyone is special, and the warmth of a neighborhood shines. Here is the perfect book for parents to use to introduce children to the importance of community.
 
Meet kids like Azaria, who loves to jump double-Dutch one leg at a time; Zion, whose dream is to become a librarian; and cousins Ede and Tari, who dream of creating a picture book together one day. Meet grown-ups like Mr. Sidney, a retired mail carrier who greets everyone with the words, "Don't wait to have a great day. Create one!" and Ms. Sarah, whose voice is only a whisper but who has stories between the lines of her face that she'll share when you come close.