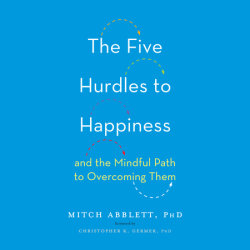 The Five Hurdles to Happiness
And the Mindful Path to Overcoming Them
Imprint: Books on Tape
Genre: Self-Help - Personal Growth - Happiness

Release Date: August 07, 2018
11 Hours and 19 Minutes
List Price: $85.50
ISBN: 9781984828774
A practical approach to becoming aware of the "five hindrances"--the negative qualities that inhibit living the awakened life--and to breaking free of them in order to live more mindfully, effectively, compassionately.

The Buddha's teaching on the five hindrances to awakening in the ancient scripture Samyutta Nikaya, where he contrasts them to the seven factors of enlightenment. They are a feature of what's taught in all the Buddhist traditions. Mitch Abblett gives the teaching a unique modern and secular interpretation, combining traditional wisdom with contemporary psychology--with examples from the lives of the real people he has worked with on the hindrances in his psychotherapy practice.

The hindrances are, according to Mitch's formulation (there are various others): desire, hostility, sluggishness, worry, and doubt. Recognizing how each hindrance manifests in you goes a long way toward freeing yourself from it, but each hindrance also has a corresponding antidote that works like a wonder drug prescribed for a specific illness. The book takes the Buddhist five hindrances beyond their application to meditation and uses them as a frame for engaging readers in a process of contemplating their own life in general and learning to turn into their experience rather than merely repeating bad habits.