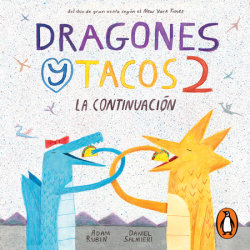 Dragones y tacos 2: La continuación
Imprint: Books on Tape
Genre: Juvenile Fiction - Animals - Dragons, Unicorns & Mythical
Ages: 3-5 years
Release Date: November 02, 2021
0 Hours and 7 Minutes
List Price: $22
ISBN: 9780593586730
Esta divertida y condimentada continuación del gran éxito en ventas según el New York Times es ideal para la hora del cuento.

¡Noticias de última hora! Se acaba de descubrir que NO QUEDAN MÁS TACOS en ninguna parte del mundo. Nos encontramos frente a un serio problema porque, según sabes, a los dragones les encantan los tacos. Si hubiera alguna manera de que los dragones pudieran viajar a través del tiempo, al pasado, antes de que se acabaran los tacos, ¡podrían recoger montones de tacos y traerlos! Es un magnífico plan siempre y cuando no incluya salsa picante. Recuerda lo que pasó la última vez...

Los galardonados creadores de Fiesta secreta de pizza regresan con esta «empachosa» y divertida continuación del fenómeno en ventas Dragones y tacos.

Dragons Love Tacos 2: The Sequel:
The hilarious sequel to the smokin' hot New York Times best seller, perfect for story time

News alert! It has just been discovered that there are NO MORE TACOS left anywhere in the world. This is a huge problem because, as you know, dragons love tacos. If only there was a way for the dragons to travel back in time, to before tacos went extinct. Then they could grab lots of tacos and bring them back! It's the perfect plan, as long as there's no spicy salsa. You remember what happened last time . . .

The award-winning creators of Robo-Sauce and Secret Pizza Party return with a gut-bustingly hilarious companion to the bestselling phenomenon Dragons Love Tacos.