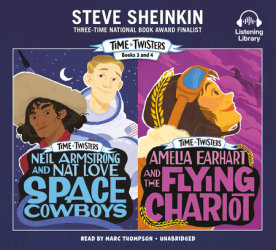 BOT Exclusive
Time Twisters: Books 3 and 4
Neil Armstrong and Nat Love, Space Cowboys; Amelia Earhart and the Flying Chariot
Imprint: Listening Library
Grades: Grades 2-5
Ages: 7-10 years
Release Date: June 25, 2019
3 Hours and 45 Minutes
List Price: $38
ISBN: 9780525528944
WARNING: DO NOT BELIEVE THE STORIES YOU'RE ABOUT TO LISTEN TO.
Well, you can believe some of them. There is some real history. But also hijinks. Time travel. And famous figures setting off on adventures that definitely never happened--till now. Time is getting twisted, and it's up to two kids to straighten things out.

Neil Armstrong and Nat Love, Cowboys in Space: The students of Ms. Maybee's class used to think history was boring, but that was before time started to get twisted! When a spaceship carrying Neil Armstrong and Buzz Aldrin inexplicably lands in 1869 Texas, cowboy Nat Love decides to trade in his horse for a trip to the moon. It's up to siblings Doc and Abby to untwist history and get these historical figures back where they belong.

Amelia Earhart and the Flying Chariot: Siblings Abby and Doc have been racing through time to fix history after Abraham Lincoln, Abigail Adams, and Neil Armstrong started popping up in the wrong places, at the wrong times. When Amelia Earhart accidentally lands her plane in Ancient Greece, Abby and Doc partner with Kyniska, the first woman to win the Olympics, to get Amelia back on track to finish her first solo flight across the Atlantic.

Steve Sheinkin combines history, hilarity, and surprising twists in the Time Twisters series. A surefire hit with history buffs and reluctant readers alike!