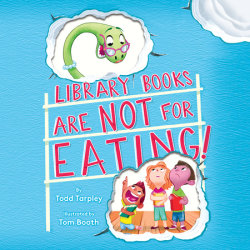 Library Books Are Not for Eating!
Imprint: Listening Library
Genre: Juvenile Fiction - Animals - Dinosaurs & Prehistoric Creatures
Ages: 3-7 years
Release Date: June 23, 2020
0 Hours and 7 Minutes
List Price: $22
ISBN: 9780593342343
A funny audiobook about books...and eating them! Perfect for fans of We Don't Eat Our Classmates.

It's time for school, but Ms. Bronte has one small problem...she really loves eating books. (Did I mention she's also a dinosaur?) Math books, cookbooks, old books, new books--she just can't help herself. Will Ms. Bronte ever be able to curb her page-turning appetite, or will she continue chomping her way through a tasty book buffet? Get ready for a story that will leave listeners hungry for a second helping!