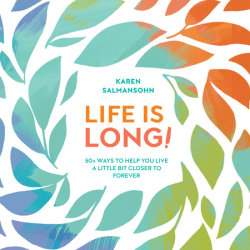 Life Is Long!
50+ Ways to Help You Live a Little Bit Closer to Forever
Imprint: Books on Tape
Genre: Health & Fitness - Longevity

Release Date: October 23, 2018
2 Hours and 4 Minutes
List Price: $47.50
ISBN: 9781984844828
Want to live forever? This handy little guide will get you close!
 
Best-selling author and wellness expert Karen Salmansohn presents a witty, inspiring collection of the top 50+ tips for a long and healthy life, backed by a wide range of longevity research. You'll discover insights from the world's Blue Zones (where people live extra long) and takeaways from fascinating studies on everything from coffee to fasting to hidden toxins. 
 
Distilling the latest science into longevity practices that are quick to read and jam-packed with playful humor, Life Is Long sheds light on intriguing questions like

   • what spice improves cardiovascular health as much as aerobic exercise?
   • how often should I stand up from my desk?
   • how can brushing my teeth improve my heart health?
   • how do I keep my chromosomes in good shape?
   • and more!