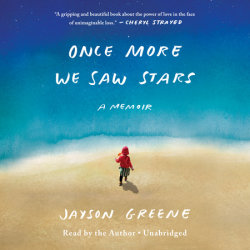 Once More We Saw Stars
A Memoir
Imprint: Books on Tape
Genre: Biography & Autobiography - Personal Memoirs

Release Date: May 14, 2019
7 Hours and 2 Minutes
List Price: $66.50
ISBN: 9781984840288
"A gripping and beautiful book about the power of love in the face of unimaginable loss."
 --Cheryl Strayed

For readers of The Bright Hour and When Breath Becomes Air, a moving, transcendent memoir of loss and a stunning exploration of marriage in the wake of unimaginable grief.

As the book opens: two-year-old Greta Greene is sitting with her grandmother on a park bench on the Upper West Side of Manhattan. A brick crumbles from a windowsill overhead, striking her unconscious, and she is immediately rushed to the hospital. But although it begins with this event and with the anguish Jayson and his wife, Stacy, confront in the wake of their daughter's trauma and the hours leading up to her death, Once More We Saw Stars quickly becomes a narrative that is as much about hope and healing as it is about grief and loss. Jayson recognizes, even in the midst of his ordeal, that there will be a life for him beyond it--that if only he can continue moving forward, from one moment to the next, he will survive what seems unsurvivable. With raw honesty, deep emotion, and exquisite tenderness, he captures both the fragility of life and absoluteness of death, and most important of all, the unconquerable power of love. This is an unforgettable memoir of courage and transformation--and a book that will change the way you look at the world.