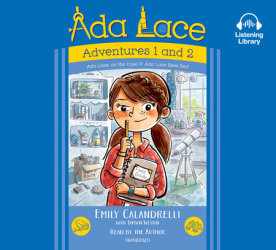 BOT Exclusive
Ada Lace Adventures 1 and 2
Ada Lace, on the Case and Ada Lace Sees Red
Imprint: Listening Library
Grades: Grades 1-4
Ages: 6-9 years
Release Date: August 29, 2017
3 Hours and 7 Minutes
List Price: $30
ISBN: 9780525497431
From Emily Calandrelli—host of Xploration Outer Space, correspondent on Bill Nye Saves the World, and graduate of MIT—come the first two novels in a brand-new chapter book series about an eight-year-old girl with a knack for science, math, and solving mysteries with technology.

Ada Lace, on the Case:  Ada Lace—third-grade scientist and inventor extraordinaire—has discovered something awful: her neighbor's beloved Yorkie has been dognapped! With the assistance of a quirky neighbor named Nina (who is convinced an alien took the doggie) and her ever-growing collection of gadgets, Ada sets out to find the wrongdoer. As their investigation becomes more and more mysterious, Ada and Nina grow closer, proving that opposites do, in fact, attract.

Ada Lace Sees Red: Ada Lace is building a new robot! She's determined to beat Milton in the upcoming robotics competition. But she's distracted—Ada finds her dad's art class impossible, while Nina is the star of the class, basking in the glory of being Mr. Lace's star pupil. When Mr. Lace suggests that Nina put on an art show, Ada becomes jealous and loses her temper. Now Ada isn't speaking to her dad, she's falling behind in art class, and she still doesn't know how to fix her robot. As the competition looms closer, Ada starts to wonder if there might be a way to use both science and art to solve her problems. Will Ada make up with her father in time to test her hypothesis? Or will her hurt feelings leave her seeing red and without a medal at the end of the day?