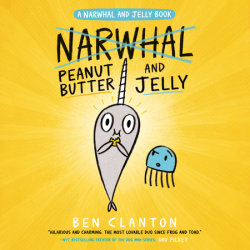 Peanut Butter and Jelly (A Narwhal and Jelly Book #3)
Imprint: Listening Library
Grades: Grades 1-4
Ages: 6-9 years
Release Date: September 08, 2020
0 Hours and 14 Minutes
List Price: $22
ISBN: 9780593207406
"Hilarious and charming. The most lovable duo since Frog and Toad." —NYT-bestselling creator of the Dog Man and Captain Underpants series, Dav Pilkey

Narwhal's obsession with their new favorite food leads them into hijinks and hilarity in the third book of this all-star early graphic novel series, adapted for audio!

Narwhal and Jelly are back and Narwhal has a new obsession . . . peanut butter! Narwhal is so obsessed they even wants to change their name to . . . that's right . . . Peanut Butter! Ever-sensible Jelly isn't so sure that's the best idea, but is all for Narwhal trying new things (instead of just eating waffles all the time, no matter how delicious waffles are).

In this third audiobook, Narwhal and Jelly star in three new stories about trying new things, favorite foods and accepting who we are. Always funny and never didactic, this underwater duo charms again through their powerful combination of positive thinking, imagination and joyfulness.