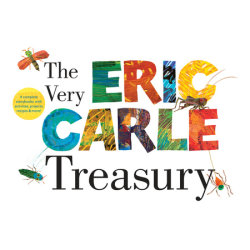 The Very Eric Carle Treasury
The Very Busy Spider; The Very Quiet Cricket; The Very Clumsy Click Beetle; and The Very Lonely Firefly
Imprint: Listening Library
Genre: Juvenile Fiction - Animals - Insects, Spiders, etc.
Ages: 2-5 years
Release Date: January 19, 2021
0 Hours and 20 Minutes
List Price: $28
ISBN: 9780593401675
Four favorite "Very" stories from beloved author Eric Carle!
 
Featuring The Very Busy Spider, The Very Quiet Cricket, The Very Clumsy Click Beetle, and The Very Lonely Firefly, this collection of Eric Carle stories offers listeners four complete "Very" books—narrated by Kevin R. Free with music and sound effects—in one download.
 
Along the with stories,The Very Eric Carle Treasury audiobook includes a bonus PDF with two activities, one family project, and a peanut butter beehive recipe.


For existing Carle fans, or for those just listening to his stories for the first time, this audiobook is the perfect addition to every family's collection.