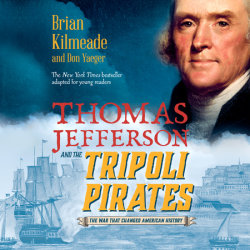 Thomas Jefferson and the Tripoli Pirates (Young Readers Adaptation)
The War That Changed American History
Imprint: Listening Library
Grades: Grade 5 & Up
Ages: 10 and up
Release Date: April 21, 2020
2 Hours and 33 Minutes
List Price: $34
ISBN: 9780593155684
A page-turning middle-grade adaptation of the New York Times bestseller about how a newly independent nation was challenged by foreign powers and what happened when America's third president decided to stand up to intimidation.

When Thomas Jefferson became president in 1801, America was deeply in debt and needed its economy to grow quickly, but its merchant ships were under attack. Pirates from North Africa routinely captured American sailors and held them as captives demanding ransom and tribute far beyond what the new country could afford.

Jefferson found it impossible to negotiate a truce, and decided to move beyond diplomacy. He sent the U.S. Navy and Marines to blockade Tripoli--launching the Barbary Wars and beginning America's journey toward future superpower status.

This vivid and accessible young readers adaptation of the New York Times bestseller features an exclusive new introduction, extensive back matter, and eye-catching art throughout. Chronicling a crucial moment in American history, this historical thriller will excite and inspire the next generation of patriots.