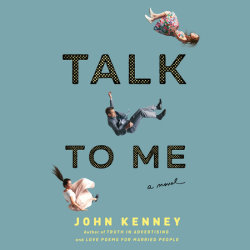 Talk to Me
Imprint: Books on Tape
Genre: Fiction - Literary

Release Date: January 15, 2019
9 Hours and 5 Minutes
List Price: $76
ISBN: 9780525640189
By the author of the New York Times bestseller, Love Poems for Married People, and the Thurber Prize-winner Truth in Advertising comes a wry yet tenderhearted look at how one man's public fall from grace leads him back to his family, and back to the man he used to be.

It's a story that Ted Grayson has reported time and time again in his job as a network TV anchor: the public downfall of those at the top. He just never imagined that it would happen to him. After his profanity-laced tirade is caught on camera, his reputation and career are destroyed, leaving him without a script for the first time in years.

While American viewers may have loved and trusted Ted for decades, his family certainly didn't: His years of constant travel and his big-screen persona have frayed all of his important relationships. At the time of his meltdown, Ted is estranged from his wife, Claire, and his adult daughter, Franny, a writer for a popular website. Franny views her father's disgrace with curiosity and perhaps a bit of smug satisfaction, but when her boss suggests that she confront Ted in an interview, she has to decide whether to use his loss as her career gain. And for Ted, this may be a chance to take a hard look at what got him to this place, and to try to find his way back before it's too late.

Talk to Me is a sharply observed, darkly funny, and ultimately warm story about a man who wakes up too late to the mess he's made of his life... and about our capacity for forgiveness and empathy.