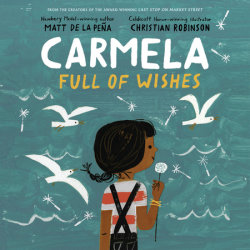 Carmela Full of Wishes
Imprint: Listening Library
Genre: Juvenile Fiction - Family - Siblings
Ages: 3-5 years
Release Date: October 09, 2018
0 Hours and 6 Minutes
List Price: $22
ISBN: 9780525638766
An Instant New York Times Bestseller!

In Matt de la Peña and Christian Robinson's first collaboration since the Newbery Medal- and Caldecott Honor-winning Last Stop on Market Street comes a poignant and timely new book that's sure to be an instant classic: now adapted for audio, with narration by the author

When Carmela wakes up on her birthday, her wish has already come true--she's finally old enough to join her big brother as he does the family errands. Together, they travel through their neighborhood, past the crowded bus stop, the fenced-off repair shop, and the panadería, until they arrive at the Laundromat, where Carmela finds a lone dandelion growing in the pavement. But before she can blow its white fluff away, her brother tells her she has to make a wish. If only she can think of just the right wish to make . . .

With lyrical, stirring text and evocative narration, Matt de la Peña and Christian Robinson have delivered a moving ode to family, to dreamers, and to finding hope in the most unexpected places.