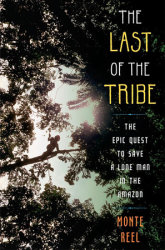 The Last of the Tribe
The Epic Quest to Save a Lone Man in the Amazon
Imprint: Books on Tape
Genre: History - Latin America - South America

Release Date: October 04, 2016
9 Hours
List Price: $76
ISBN: 9781524722340
Throughout the centuries, the Amazon has yielded many of its secrets, but it still holds a few great mysteries. In 1996 experts got their first glimpse of one: a lone Indian, a tribe of one, hidden in the forests of southwestern Brazil. Previously uncontacted tribes are extremely rare, but a one-man tribe was unprecedented. And like all of the isolated tribes in the Amazonian frontier, he was in danger. 

Resentment of Indians can run high among settlers, and the consequences can be fatal. The discovery of the Indian prevented local ranchers from seizing his land, and led a small group of men who believed that he was the last of a murdered tribe to dedicate themselves to protecting him. These men worked for the government, overseeing indigenous interests in an odd job that was part Indiana Jones, part social worker, and were among the most experienced adventurers in the Amazon. They were a motley crew that included a rebel who spent more than a decade living with a tribe, a young man who left home to work in the forest at age fourteen, and an old-school sertanista with a collection of tall tales amassed over five decades of jungle exploration. 

Their quest would prove far more difficult than any of them could imagine. Over the course of a decade, the struggle to save the Indian and his land would pit them against businessmen, politicians, and even the Indian himself, a man resolved to keep the outside world at bay at any cost. It would take them into the furthest reaches of the forest and to the halls of Brazil's Congress, threatening their jobs and even their lives. Ensuring the future of the Indian and his land would lead straight to the heart of the conflict over the Amazon itself. 

A heart-pounding modern-day adventure set in one of the world's last truly wild places, The Last of the Tribe is a riveting, brilliantly told tale of encountering the unknown and the unfathomable, and the value of preserving it.