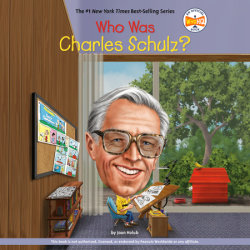 Who Was Charles Schulz?
Imprint: Listening Library
Grades: Grades 3-7
Ages: 8-12 years
Release Date: March 01, 2022
1 Hours
List Price: $22
ISBN: 9780593503485
Learn more about the cartoonist who created Charlie Brown, Snoopy, and the rest of the lovable Peanuts gang!

Charles (otherwise known as Sparky) Schulz always loved drawing from the time he was a young child, and as he grew older, he turned this passion into a phenomenally successful career. His early doodles of his mischievous dog and of a shy boy inspired two of his most familiar and beloved characters, Charlie Brown and Snoopy. Here's the story about Peanuts gang and Charles's life that's sure to excite all readers but especially those who love the classic cartoon series.