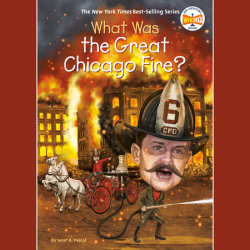 What Was the Great Chicago Fire?
Imprint: Listening Library
Grades: Grades 3-7
Ages: 8-12 years
Release Date: October 05, 2021
1 Hours and 11 Minutes
List Price: $22
ISBN: 9780593554463
Did the Great Chicago Fire really start after a cow kicked over a lantern in a barn? Find out the truth in this addition to the What Was? series.

On Sunday, October 8, 1871, a fire started on the south side of Chicago. A long drought made the neighborhood go up in flames. And practically everything that could go wrong did. Firemen first went to the wrong location. Fierce winds helped the blaze jump the Chicago River twice. The Chicago Waterworks burned down, making it impossible to fight the fire. Finally after two days, Mother Nature took over, with rain smothering the flames. This overview of a stupendous disaster not only covers the fire but explores the whole history of fire fighting.