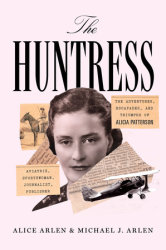 The Huntress
The Adventures, Escapades, and Triumphs of Alicia Patterson: Aviatrix, Sportswoman, Journalist, Publisher
Imprint: Books on Tape
Genre: Biography & Autobiography - Editors, Journalists, Publishers

Release Date: August 23, 2016
11 Hours and 37 Minutes
List Price: $85.50
ISBN: 9781524703462
From National Book Award–winner Michael J. Arlen and screenwriter Alice Arlen, here is the fascinating, adventurous life of Alicia Patterson, who became, at age thirty-four, one of the youngest and most successful newspaper publishers in America when she founded Newsday.

With The Huntress, the Arlens give us a revealing picture of the lifestyle and traditions of the Patterson-Medill publishingdynasty—one of the country's most powerful and influential newspaper families—but also Alicia's rebellious early years and her dominating father, Joseph Patterson. Founder and editor of the New York Daily News, Patterson was a complicated and glamorous figure who in his youth had reported on Pancho Villa in Mexico and had outraged his conservative Chicago family by briefly espousing socialism.

Not once but twice, first at age twenty, Alicia agreed to marry men her father chose, despite having her own more interesting suitors. He encouraged her to do the difficult training required for an aviation transport license; in 1934 she became only the tenth woman in America to receive one. Patterson brought her along to London to meet with Lord Beaverbrook, to Rome to meet Mussolini, and to Moscow in 1937, at the time of Stalin's "show trials," where a young George Kennan took her under his wing.

Alicia caught the journalism bug writing for Liberty magazine, an offshoot of the Daily News. A trip to French Indochina highlighted her hunting skills and made the sultan of Johor an ardent admirer; another trip would involve India,the dangerous sport of pigsticking, several maharajas, and a tiger hunt. A third marriage, to Harry Guggenheim, blew hot and cold but it did last; it was with him that she started Newsday in a former car dealership on Long Island. Governor Adlai E. Stevenson, two-time Democratic candidate for president, would be one of her last admirers.

With access to family archives of journals and letters, Michael and Alice Arlen have written an astonishing portrait of a maverick newspaperwoman and an intrepid adventurer, told with humor, compassion, and a profound understanding of a time and place.

Cover image reproduced from Hofstra University Special Collections.