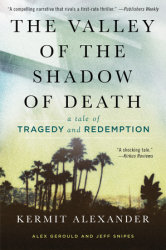 The Valley of the Shadow of Death
A Tale of Tragedy and Redemption
Imprint: Books on Tape
Genre: True Crime - Murder - General

Release Date: September 22, 2015
11 Hours and 8 Minutes
List Price: $95
ISBN: 9780399566905
In this heart-wrenching memoir, former NFL star Kermit Alexander tells the devastating true story of the horrific massacre of his family and his subsequent years of despair, followed by a spiritual renewal that showed him a way to rebuild his family and reclaim his life.

On the morning of August 31, 1984, in the South Central section of Los Angeles, three armed men broke into a house, brutally murdering two women and two young boys.

The victims were Ebora Alexander, Dietra Alexander, Damani Garner, and Damon Bonner—the mother, sister, and nephews of retired All-Pro cornerback for the San Francisco 49ers Kermit Alexander.

In his own words, Kermit Alexander finally shares the full story of what happened to his loved ones and the aftermath of that tragic day. He recounts the hours leading up to the massacre, and how afterward he lost himself in the LA underworld, pleading, bribing, and threatening in a search for answers. He describes his journey through the "wilderness" of despair—the years of isolation living out of his car, broke, depressed, and sick. We also learn about his coming-of-age in 1950s LA, the following decade he spent in the NFL, the events leading up to that fateful August day, and finally the shocking truth behind the murders. Kermit opens up about his darkest hours, but also what it took to turn his life around, rebuild his family, and ultimately find peace.

Ominous and intense, powerful and uplifting, tragic and triumphant, The Valley of the Shadow of Death is more than a rendering of one man's adversity; it's testament to the value of family and the resilience of the human spirit in the face of overwhelming loss.