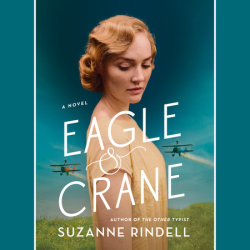 Eagle & Crane
Imprint: Books on Tape
Genre: Fiction - Historical - General

Release Date: July 03, 2018
13 Hours and 32 Minutes
List Price: $95
ISBN: 9780525590682
Two young daredevil flyers confront ugly truths and family secrets during the U.S. internment of Japanese citizens during World War II, from the author of The Other Typist and Three-Martini Lunch.

Louis Thorn and Haruto "Harry" Yamada--Eagle and Crane--are the star attractions of Earl Shaw's Flying Circus, a daredevil (and not exactly legal) flying act that traverses Depression-era California. The young men have a complicated relationship, thanks to the Thorn family's belief that the Yamadas--Japanese immigrants--stole land that should have stayed in the Thorn family.

When Louis and Harry become aerial stuntmen, performing death-defying tricks high above audiences, they're both drawn to Shaw's smart and appealing stepdaughter, Ava Brooks. After the Japanese bomb Pearl Harbor and one of Shaw's planes mysteriously crashes and two charred bodies are discovered in it, authorities conclude that the victims were Harry and his father, Kenichi, who had escaped from a Japanese internment camp they had been sent to by the federal government. To the local sheriff, the situation is open and shut. But to the lone FBI agent assigned to the case, the details don't add up.

Thus begins an investigation into what really happened to cause the plane crash, who was in the plane when it fell from the sky, and why no one involved seems willing to tell the truth. By turns an absorbing mystery and a fascinating exploration of race, family and loyalty, Eagle and Crane is that rare novel that tells a gripping story as it explores a terrible era of American history.