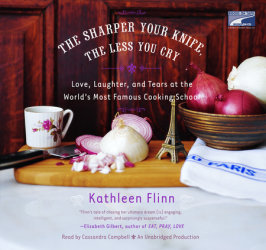 The Sharper Your Knife, the Less You Cry
Love, Laughter, and Tears at the World's Most Famous Cooking School
Imprint: Books on Tape
Genre: Cooking - Essays & Narratives

Release Date: October 09, 2007
10 Hours and 34 Minutes
List Price: $89.40
ISBN: 9781415943434
In 2003, Kathleen Flinn was a thirty-six-year-old American in London who felt trapped in corporate middle management–until her boss eliminated her job while she was on vacation. Ignoring her mother's advice that she find another job immediately, Flinn moved to Paris to pursue a dream–a diploma from the venerable Le Cordon Bleu cooking school.

But instead of being ushered into "a glamorous world of soufflés and foie gras," Flinn found herself struggling in a stew of hot-tempered chefs, competitive classmates, and her own "wretchedly inadequate" French. She trudged home traumatized by gutting fish, severing the heads off rabbits, and dropping an entire roast duck on the floor moments before having to present her plate to the presiding chef.

As the story moves through the various classes, the basics of French cuisine are interwoven. Flinn also offers her experience of the vibrant sights and sounds of the markets, shops, and avenues of Paris. In time, Flinn triumphs in her battles and wins over the toughest chef. More important, though, she challenges a career-focused mentality and attempts a discovery of what really matters to her. She even comes to realize that the love of her life has been right in front of her the whole time.