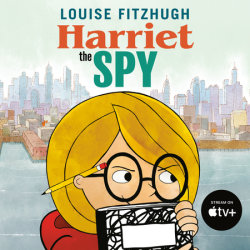 Harriet the Spy
Imprint: Listening Library (Audio)
Grades: Grades 3-7
Ages: 8-12 years
Release Date: October 17, 2006
6 Hours and 56 Minutes
List Price: $50
ISBN: 9780807217801
Categories:
Juvenile Fiction - Classics, Juvenile Fiction - Mysteries & Detective Stories, Juvenile Fiction - Girls & Women
Tags:
children's, children, mystery, friendship, young adult, children's literature, spy, classic, children's fiction, realistic fiction, kids, juvenile, ya, writing, new york, new york city, school, friends, espionage, juvenile fiction, classics, youth, humor, children's books, childhood, girls, 1960s, children's book, adventure, american
Harriet M. Welsch is a spy. In her notebook, she writes down everything she knows about everyone, even her classmates and her best friends. Then Harriet loses track of her notebook, and it ends up in the wrong hands. Before she can stop them, her friends have read the always truthful, sometimes awful things she's written about each of them. Will Harriet find a way to put her life and her friendships back together?