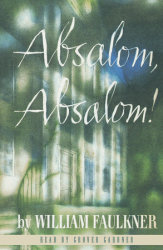 BOT Exclusive
Absalom, Absalom!
Imprint: Books on Tape
Genre: Fiction - Classics

Release Date: December 18, 2007
12 Hours and 36 Minutes
List Price: $76
ISBN: 9781415951200
Absalom! Absalom! is William Faulkner's major work--his most important and ambitious contribution to American literature. In the dramatic texture of this story of the founding, flourishing and decay of the plantation of Sutpen's Hundred, and of the family that demonic Stephen Sutpen brought into the world a generation before the Civil War, there rises the lament of the South for its own vanished splendor. From its magnificent and bold inception, when with his wild Negroes the founder of the great plantation appeared out of nowhere to seize his hundred square miles of land and build his mansion, through the destruction of the Civil War and its aftermath, and the drab beginnings of the new South, the narrative is colored by the author's glowing imagery, his command of a powerful and magical prose style. Beneath its brilliant surface and dark undercurrents, the novel sweeps backward and forward through time. The story in all its ramifications becomes crystallized in the mind of a relative of this strange family, young Quentin Compson, a Harvard student. At the terrifying and abrupt end of the tale there remain in the crumbling shell of the old house only the dying son of its builder, an ancient Negro woman who had been his slave, and the idiot mulatto youth who was to be the only direct descendant of the Sutpen blood.

This edition is set from the first American edition of 1936 and commemorates the seventy-fifth anniversary of Random House.