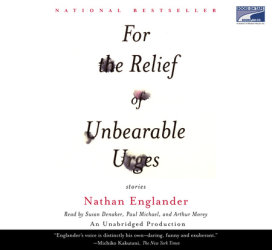 For the Relief of Unbearable Urges
Stories
Imprint: Books on Tape
Genre: Fiction - Short Stories (single author)

Release Date: April 24, 2007
6 Hours and 45 Minutes
List Price: $76
ISBN: 9781415938102
A NEW YORK TIMES NOTABLE BOOK

"Taut, edgy, sharply observed. . . . A revelation of the human condition." –The New York Times Book Review

In the collection's hilarious title story, a Hasidic man gets a special dispensation from his rabbi to see a prostitute. "The Wig" takes an aging wigmaker and makes her, for a single moment, beautiful. In "The Tumblers," Englander envisions a group of Polish Jews herded toward a train bound for the death camps and, in a deft, imaginative twist, turns them into acrobats tumbling out of harm's way. FOR THE RELIEF OF UNBEARABLE URGES is a work of startling authority and imagination–an audiobook that is as wondrous and joyful as it is wrenchingly sad.