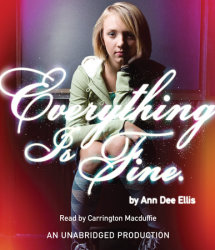 Everything is Fine.
Imprint: Listening Library
Grades: Grade 7 & Up
Ages: 12 and up
Release Date: March 10, 2009
3 Hours and 35 Minutes
List Price: $32.30
ISBN: 9780739379097
Ann Dee Ellis portrays a captivating story that shows the candor, wit, and survival instinct of a girl whose family is tragically torn apart.

Everything is not fine for Mazzy. Stuck at home caring for her severely depressed mother and virtually abandoned by her father, Mazzy gets by day to day insisting "everything is fine". This brilliant story slowly reveals the tragedy that drove this family apart and what it takes to put it back together.