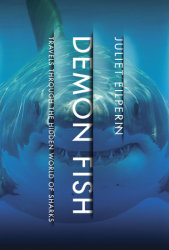 Demon Fish
Travels Through the Hidden World of Sharks
Imprint: Books on Tape
Genre: Nature - Animals - Marine Life

Release Date: June 14, 2011
11 Hours and 2 Minutes
List Price: $95
ISBN: 9780307967633
A group of traders huddles around a pile of dried shark fins on a gleaming white floor in Hong Kong. A Papua New Guinean elder shoves off in his hand-carved canoe, ready to summon a shark with ancient magic. A scientist finds a rare shark in Indonesia and forges a deal with villagers so it and other species can survive.

In this eye-opening adventure that spans the globe, Juliet Eilperin investigates the fascinating ways different individuals and cultures relate to the ocean's top predator. Along the way, she reminds us why, after millions of years, sharks remain among nature's most awe-inspiring creatures.

From Belize to South Africa, from Shanghai to Bimini, we see that sharks are still the object of an obsession that may eventually lead to their extinction. This is why movie stars and professional athletes go shark hunting in Miami and why shark's fin soup remains a coveted status symbol in China. Yet we also see glimpses of how people and sharks can exist alongside one another: surfers tolerating their presence off Cape Town and ecotourists swimming with sharks that locals in the Yucatán no longer have to hunt.

With a reporter's instinct for a good story and a scientist's curiosity, Eilperin offers us an up-close understanding of these extraordinary, mysterious creatures in the most entertaining and illuminating shark encounter you're likely to find outside a steel cage.