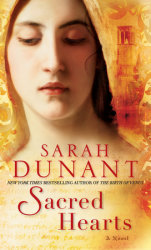 Sacred Hearts
A Novel
Imprint: Books on Tape
Genre: Fiction - Historical - General

Release Date: July 14, 2009
14 Hours and 57 Minutes
List Price: $95
ISBN: 9781415964156
The year is 1570, and in the convent of Santa Caterina, in the Italian city of Ferrara, noblewomen find space to pursue their lives under God's protection. But any community, however smoothly run, suffers tremors when it takes in someone by force.

The sixteen-year-old daughter of a noble family from Milan, Serafina is willful, emotional, sharp, and defiant–young enough to have a life to look forward to and old enough to know when that life is being cut short. Her first night inside the walls is spent in an incandescent rage so violent that the dispensary mistress, Suora Zuana, is dispatched to the girl's cell to sedate her.

As Serafina rails against her incarceration, others are drawn into the drama: the ancient, mysterious Suora Magdalena; the ferociously devout novice mistress Suora Umiliana, and, watching it all, the abbess, Madonna Chiara, a woman as fluent in politics as she is in prayer. As disorder and rebellion mount, it is the abbess's job to keep the convent stable while, outside its walls, the dictates of the Counter-Reformation begin to purge the Catholic Church and impose on the nunneries a regime of oppression.